Founder & CEO Jay Feinberg, Boca Raton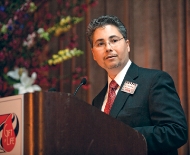 Leukemia is a random killer. It can strike anyone at any time. But for many, there is hope of a cure through a bone marrow or blood stem cell. In fact, one in 200 Americans will receive such a transplant in their lifetime.
Headquartered in Boca Raton, Florida, Gift of Life (www.giftoflife.org) is one of the nation's public bone marrow and blood stem cell registries. Through its life-saving work, Gift of Life is a world leader, facilitating transplants for children and adults suffering from many life-threatening diseases, including leukemia and lymphoma.
When Founder & CEO Jay Feinberg was diagnosed with leukemia at age 22 and told he would need a bone marrow transplant to survive, he had no idea that his journey would result in the establishment of an organization that would save the lives of hundreds of patients.
When he got sick, Jay was told that a transplant could save his life, but he was going to die needlessly because he would never find a matching donor. He learned that a patient's best chance of finding a genetic match lies with those of similar ethnic background. Unfortunately, the worldwide registry was not representative of all ethnic groups, and Jay is Jewish. Jay's family and friends wanted him to have an equal opportunity to find a match, so they launched an ambitious grassroots donor recruitment campaign, resulting in the enrollment of tens of thousands of new donors in the worldwide registry. But after four years, and finding matches for many others, there remained no match for Jay.
That's when a miracle happened. A young man decided to run one last drive, because his best friend had found a match through a drive held for Jay. The four-year search for a donor came to a close in May 1995. The very last donor - tested at that very last drive - turned out to be his match, and Jay received his transplant soon after at the Fred Hutchinson Cancer Research Center in Seattle, thanks to his miracle match, Becky.
In this Q & A, Jay shares with us how we can help save a life:
Q: What is your ultimate goal for Gift of Life's bone marrow registry and how close is the organization to achieving that goal?
Our ultimate goal is a match for every patient we serve. No patient should have to die needlessly, for lack of a donor. Every patient should have an equal opportunity to receive the transplant they need when they need it, and that can only happen by growing the size and diversity of the registry.
Q: What misconception do most people have about bone marrow transplants and what is your response to that?
THERE ARE TWO MISCONCEPTIONS:
1.      People still think that joining the registry involves a blood test, when in reality it is a simple cheek swab with a Q tip.
2.      People are unaware of blood stem cell donation, a procedure used 80 percent of the time, instead of bone marrow donation.  It is possible to collect stem cells from the peripheral blood rather than the bone marrow. The stem cells are collected through a procedure that is similar to the process used in blood donation.  
Q: How best can people help Gift of Life achieve its mission?
1.      Get swabbed. This is the first step to join the registry.
2.      Make a tax-deductible contribution to help pay for the testing. The registry does not receive government funding or insurance to cover the cost of typing donors. We rely on donations from the public.
Q: Your life-saving match came with the last registrant of the last drive at a time before Gift of Life existed. How often are matches made?
Although we have come a long way, we still have a long way to go. Half the patients who can benefit from a life-saving transplant actually receive one. My experience reaffirms the power of the individual: it only takes one person to make a difference, just like my donor Becky when she decided to be tested at the very end of the drive, and turned out to be my match!
Q: Share how your mother's experience influenced your vision for Gift of Life and why her legacy is so important to the organization.
My mother was unwavering in her belief that miracle matches can be found, and her tireless efforts to help others in need have touched thousands of lives. It is her passion that fuels Gift of Life to this day and will continue until her dream of a match for every patient in need is realized.